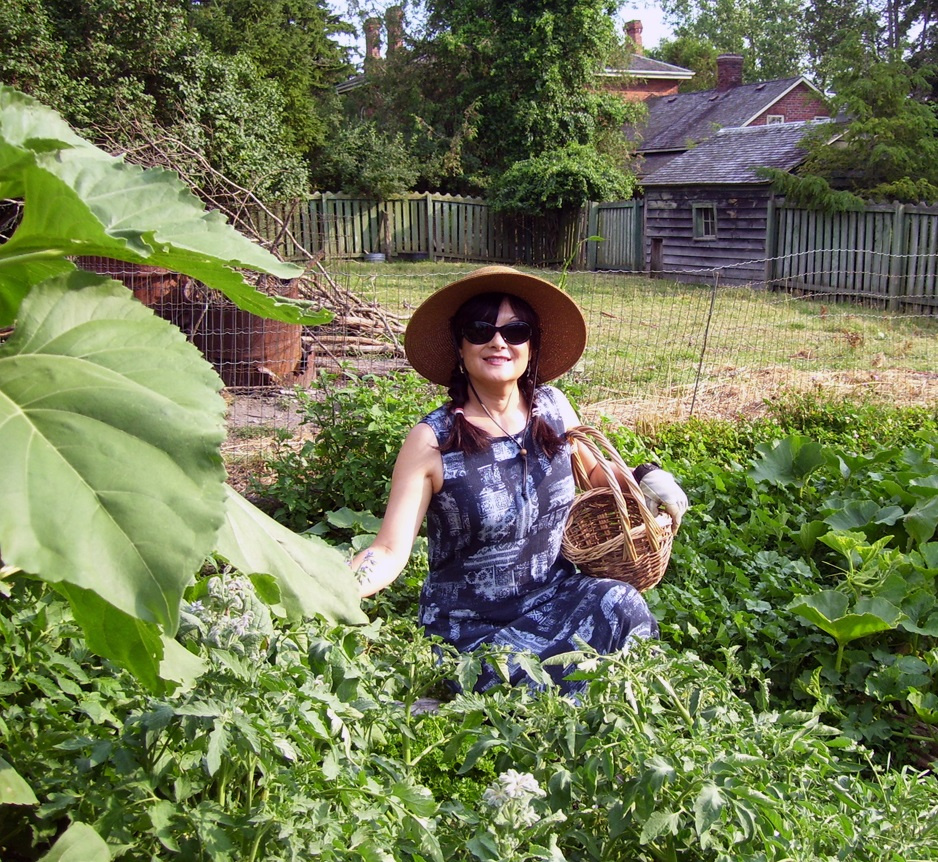 Many of us who grew up in America before the '60's are very familiar with home gardening.
We at L.U.T.E.A. are familiar with such a lifestyle. However, constant industrialization and commercialization have turned our communities away from the earth.
For Indigenous peoples, colonization took away our freedom in our own lands.. Historically, our indigenous ancestors were conservationists, and many of our communities have thousands of years of horticulture knowledge. 70% of all the foods consumed today throughout the world were all originated in North America.
However, all of our Indigenous grandparents' diets were severely altered by the reservation system. The reservation system was literally a concentration camp in desolate areas where no settler wanted to live. Our ancestors had to depend on "commodities" (packaged and processed foodstuff) consisting basically of flour, salted pork, lard and beans brought into the reservation by Cavalry soldiers issued by the Federal government. After a few generations existed upon such a diet, our people developed many illnesses and diseases, as well as being literally divorced of our relationship from the creative life force of the earth and the connections to our familiar relatives on the land. Despite the isolation, many of our grandparents who survived the system learned to garden with foods that would survive in arid and barren environments. They came to understand that if they were to survive on the reservation, farming was a necessity.
When living and studying in Hawaii at the University of Hawaii at Hilo, Dr. Marcus became acquainted with Dr. Manulani Meyer, who is an Indigenous Food Sovereignty advocate and champion to the Hawaiian community gardens..
Since that experience, gardening has taken on a new meaning for Dr. Marcus towards re-cultivating an all-encompassing relationship with the earth and to the ancestors.
When Dr. Marcus was in Ontario Canada she was mentored by Dr. Conrad Heidenreich*. Dr. Heidenreich shared Wendat (Huron) indigenous methodologies to assist in the Freedom Garden she created at Fernhill Farms in Bailieboro. Mohawk knowledge keeper Skahendowandh Swamp introduced Dr. Marcus to Akquesahsneh Mohawk farmer and food sovereignty activist, David Arquette. David gifted ancient traditional seeds to the Freedom garden in Bailieboro. Hence, the indigenous meaning of "super food" has become understood as the essential context of indigenous traditional food sovereignty.
L.U.T.E.A.;s founding board completed the Food to Table course through the Master Gardeners program derived from the University of Southern Oregon to collaborate with food security advocacy in the Del Norte County regions.
Food sovereignty and food security for the people gives us all the freedom to choose what we can eat and how we wish to live on Mother Earth.
*renown author of "Huronia" and scholar on the Wendat people.
Dr. Marcus and her husband have designated most 2 acres of their land to be used for the L.U.T.E.A. Freedom Garden. The grounds act as sanctuary and gardens. They planted traditional Indigenous gardens in designated areas.
L.U.T.E.A. Freedom Garden comprises traditional foods that have been indigenous to the region and to Indian country across Turtle Island that our society has considered "American" foods.
L.U.T.E.A. plans to host Indigenous culture bearers of gardening and medicines and cultural knowledge to share their wisdom and ideas to support the movement of food security and Hinaak Towis Hennak (living a good life) wellness.
And as gardening is a creative expression, we plan on hosting artists and musicians from the many diverse communities who live in Del Norte, Humboldt and Curry Counties, with occasional visiting guest presenters to share their works and stories.
Our foods transform our lives with active food sovereignty. Hina maako towis hinaak weyatto. So that we can do good in the world.
If you are interested to be a part of our plans and our contribution within a restorative Indigenous movement at the Garden, please contact us.
The old Lakota was wise. He knew that man's heart away from nature becomes hard; he knew that the lack of respect for growing, living things soon led to a lack of respect for humans too. So he kept his youth close to its softening influence..
Luther Standing Bear
LUTEA's Freedom Garden SlideShows 2021
Click on photos to view video slide show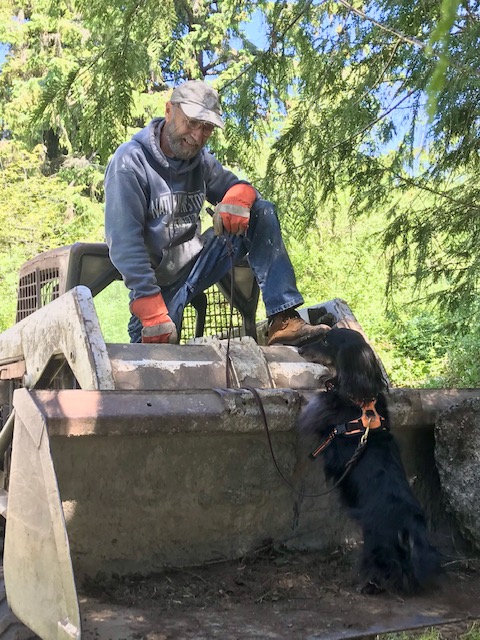 Thank you!
Jim Ecker (not in photo) for the use of your bulldozer. This gracious donation has enabled the clearing of land for out-door events in the garden use and for our in-person fire side talking circles, groups and gatherings. Accomplished 2021.
Thank you, Douglas Hayduk, (not in photo) for your forestry expertise and doing the clearing on the bulldozer.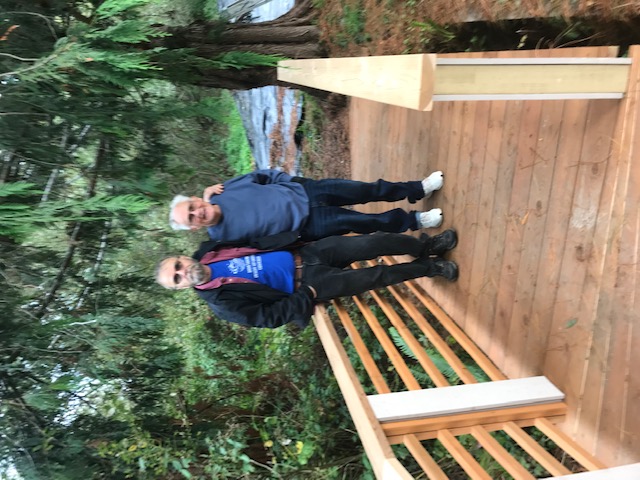 Many thanks to Dan Harrison,
Thank you Dan for your contracting expertise in designing and managing the construction of our Dan Harrison Bridge, and by assisting Marcus in building the bridge that crosses our creek.
This bridge is now in place to assist everyone who attends our in person garden meetups at our garden event clearing starting 2022..
We installed our Indigenous Three Sisters Garden for the first time in 2021.

We did not originally have a fence.
However, with visiting bears, raccoon and elk, it has helped, as well as growing food along the fence for our animal relatives.
Winter squash, Cherokee corn, beans, and mammoth sunflowers.
We grow most of our vegetables and herbs in our Front garden. Each year, someone that you least expect to show up comes to stay. It is never the same. It has been 3 growing seasons since we moved to Del Norte. It has always been an adventure. Broccoli, beets, cauliflower, cabbage, lettuce, spinach, kale, chard, carrots, garlic, artichokes, onions, berries of many kinds grow well here. We are grateful.
We reached our goal this year to have a Green House. Coastal weather does not support growing tomatoes and peppers well. We have been growing then in our sunroom, but not with splendid success. We are excited to begin our new adventure to extend our growing season and plant relatives.
We had someone come and put the foundation in, but Marcus did all the rest! Thank you Marcus!
We add more garden flowers every year to create a happy and welcoming environment for pollinators and visitors. This year, we had many hummingbirds, bees, butterflies, moths, and dragonflies visiting. Garden flowers make us smile.
We will continue to add to our gardens for more permanent horticulture and beauty.